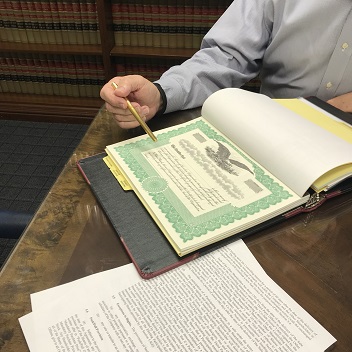 A Tailored Approach for Our Clients
At Griffin & Matthews, we understand that every client is unique. In order to best achieve our clients' goals, we take the time to understand them, their businesses and their particular needs and objectives. As a result of this COLLABORATIVE CLIENT-FIRST APPROACH, businesses of all sizes and types turn to us to structure entrepreneurial ventures or to handle strategic acquisitions, and other complex business transactions. Over the years, we have formed hundreds of entities including corporations, limited liability companies, partnerships, joint ventures, limited partnerships, and other entities providing asset protection for our clients.
Mergers and Acquisitions
Mergers and acquisitions are significant to our corporate practice. We have and continue to help our clients realize their OBJECTIVES FOR GROWTH, whether it be startup, breaking through to another level, or exiting, our lawyers have assisted in the purchase and sale of millions of dollars worth of assets and stock in companies. Although we represent clients of a wide variety of sizes, from start-ups to multi-million dollar public companies and other businesses with global interests, our particular client emphasis in M&A deals involve small to middle market transactions: companies at all stages of growth, doing transactions typically valued at $2 to $50 million, including:
Asset and stock sales and purchases
Mergers, including tax-free reorganizations and recapitalizations
Joint ventures and strategic alliances
Leveraged buyouts
Spin-offs/split-offs
As part of our M&A practice, we work closely with other lawyers inside and outside of our firm to provide additional tax, intellectual property, real estate or other legal services that complex transactions require. We also work closely with our clients' accountants, investment bankers, and other professionals to best serve our clients' needs.
Business Disputes
Unfortunately, the price of doing business often results in litigation. Griffin & Matthews works hard to BALANCE our business savvy with our ability to try cases. We work directly with management to help enforce our clients' agreements. We analyze simple to complex documents and help clients work through the dispute process; finding a business solution first and trial solution last. It is important to us that we go the extra mile to do the "right thing" with our clients as well as our adversaries. We recognize there is always a "DYNAMIC" in business relationships and do what can be done to preserve and rehabilitate those so often damaged as a byproduct of business disputes.
Formation and Operations
Not surprisingly, startup and even mid-size companies are often PREOCCUPIED with getting and running the business. Our clients turn to us to assist in the fundamentals of operating the entities in accordance with the law. We embrace the opportunity to be our clients go-to advisors on day-to-day business questions, transactions, finances, and growth that help them stay focused on those parts of the business they know best. To that end, we assist clients in:
The formation of corporations, limited liability companies, partnerships, joint ventures, limited partnerships, and other entities providing asset protecting vehicles for our clients
The preparation of annual and special minutes
The preparation, review and negotiation of contracts of all types
The preparation, review, and negotiation of employment, non-compete, and non-disclosure agreements
Financing issues
Compliance and government regulation
To speak with the attorneys at Griffin & Matthews regarding your legal concerns, call us at 281-870-1124 or contact us online to schedule a confidential consultation.